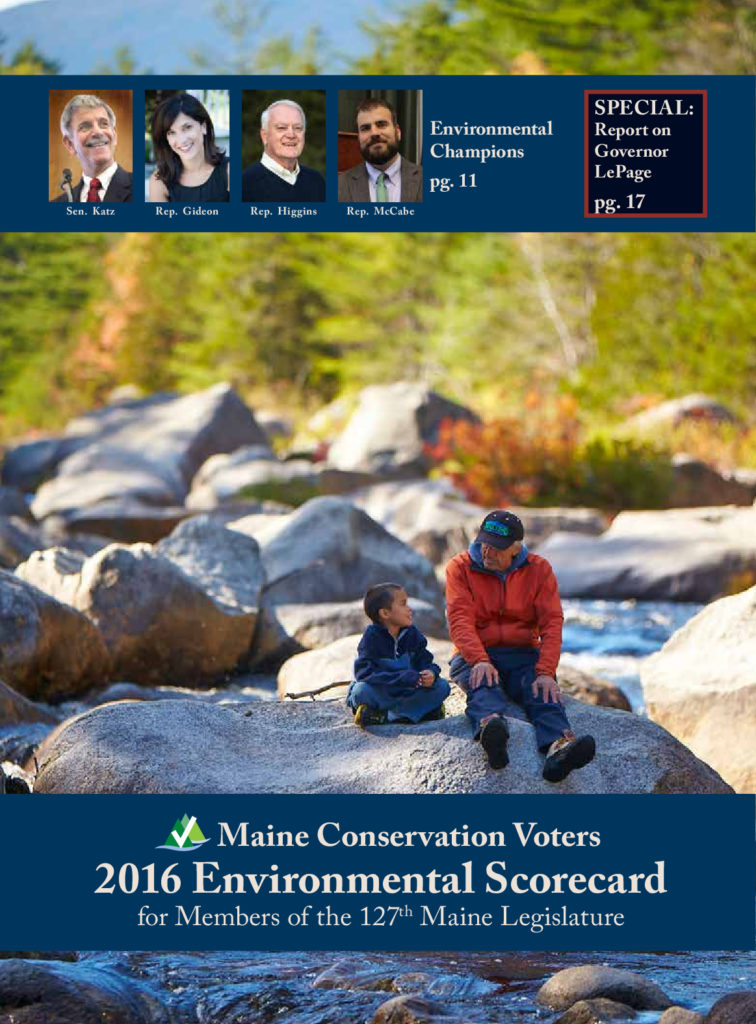 Dear Friend of Maine's Environment,
Votes matter. Whether it's your own vote when you pull back the curtain and enter the polling booth or that of your elected officials under the State House dome, this is where decisions are made about the future of our water, air and land.
Maine Conservation Voters' annual Environmental Scorecard tracks the most significant votes of the legislature. We want you to use it to find out who acts to protect Maine's environment and who just talks a good game.
Did your legislators defend the Land for Maine's Future Program (LMF) against attacks by Governor LePage? Did they vote to grow solar power in Maine? Did they support the creation of a new national monument, or the weakening of rules that protect our clean water?
Over the past several months, we watched Mainers from all walks of life and from every corner of the state join the fight for LMF and for more solar power, contacting their elected officials through meetings, phone calls, emails and letters. This overwhelming support led to a victory on LMF, ensuring that this program will continue conserving working farms and forests, trails, wildlife habitat and pristine waters throughout Maine.
But while LMF was saved for another day, too many of Maine's political leaders turned their backs on solar power. The legislature upheld Governor LePage's veto of a groundbreaking new policy to bring more solar power to Maine– and by just two votes. The bill's defeat means that, while other states build their clean energy economies, Maine continues to fall behind.
We are putting a powerful tool in your hands. Please use it. Thank your legislators if they showed courage and took leadership when our environmental protections were most at risk – or express your disappointment if they didn't. The scorecard and an easy way to contact your legislators can be found on our website at www.maineconservation.org/scores.
Thank you for your partnership in this important work. We know that you want to protect all that is most valuable about Maine and pass it down to those who will come after us.
Sincerely,
Maureen Drouin, Executive Director
Roger Berle, Board President