by Meghan Hurley • March 16, 2023
When I think of clean energy and the technology that generates it – like offshore wind turbines, solar panels, even 3-D printers that churn out bio-based building materials – I picture blue skies and clean air. I imagine clear flowing waterways and skylines free of smoke stacks. And while I'm grateful for the better world that clean energy helps me imagine, I have limited understanding of the actual science and technology building it.
So last Friday, I drove to UMaine Orono with colleagues at Maine Conservation Voters, Maine Youth for Climate Justice, and Gulf of Maine Research Institute. We explored the Advanced Structures and Composites Center lab where researchers are exploring ways to produce clean technology right here in Maine. The clean future I envision is coming to life just a few hours away from where I live.
The leader of our tour, one of the UMaine students working in the lab, told us, "If we can harness just 3% of the Gulf of Maine's winds, we can power the entire state." This sounded far-fetched until I remembered that the Gulf of Maine has some of the strongest winds in the world. I thought of Mount Washington in my home state of New Hampshire – also the site of some of the strongest winds ever recorded – and how on a mild day on that peak I feel like I might be lifted off and carried away. The rugged winds off of Maine's shores must be no gentle breeze.
And harnessing those powerful winds doesn't seem so impossible when you see how far along Maine is in developing the technology to do so. Researchers at the lab have models of wind turbines that they are testing against actual wave pools that simulate the Gulf of Maine's gusts – and the conditions of the strongest storms imaginable – to make sure the turbines can withstand whatever unpredictable situations arise seaward and channel them into power we'll use here on land.
UMaine Orono is a hub for many types of clean engineering – in addition to offshore wind technology, we learned about the lab's work with cross laminated timber and the "bridge-in-a-backpack," which is concrete-composite bridge material compact (and light) enough to be transported in a backpack. This reduces the cost and carbon footprint of bridge construction. We also saw the world's first 100% bio-based 3D printed house, made entirely of bio-resins and wood fibers! We all wanted to live in it. See below: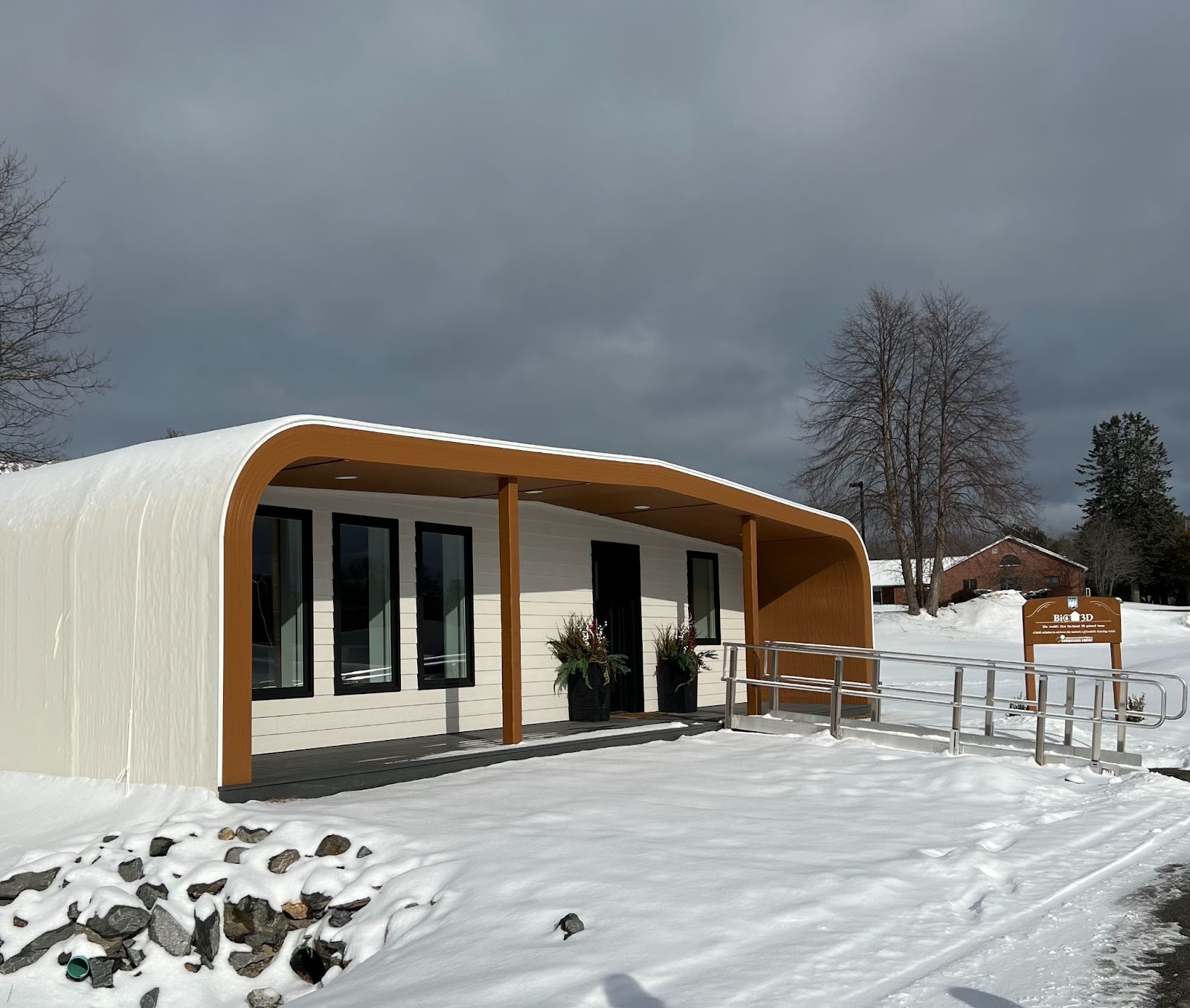 Visiting this lab just one week after Governor Mills announced Maine's new goal of achieving 100% clean energy by 2040 helped put the new energy target in perspective. We're taking steps – or rather, long strides – towards offshore wind and other clean engineering in creative and innovative ways. Seeing the work happening at UMaine makes this goal feel well within reach.
We're not only making significant advancements in the practical technological developments necessary to move toward the goal, which is essential. The political will is there too – the other necessary piece of the puzzle. Through unprecedented federal investments in climate action, Maine-based initiatives like the Climate Action Plan, and grid planning to ensure Maine's electric grid is able to accommodate increasingly electrified clean energy, the blueprint for a 100% clean energy future is here.
And for the many Mainers who have suffered from shocking energy price increases, having the capacity here in Maine to handle so many aspects of the production, transmission, and use of clean energy will make the state much less vulnerable to natural gas price spikes – like the nearly 400% price surge we saw in New England from 2021 to 2022. This increase is attributed to our overreliance on gas, the necessity to source it from outside of Maine, and the war in Ukraine straining the supply.
We're on our way! Maine has already reached an impressive milestone, powering the state with 53% renewable energy. Solar in Maine has grown 700% since 2018. And now I know that only 3% of the winds flowing through the Gulf are enough to power our whole state with the unlimited force of the wind.
But to truly move this goal forward, we need sustained support from Mainers in every corner of our state who also want to live in the bright future that doesn't exist only in our imagination. Join me in showing your support today for 100% clean energy. Click here to sign the petition.